When:
November 9, 2021 @ 10:00 am – 11:30 am
2021-11-09T10:00:00-05:00
2021-11-09T11:30:00-05:00
Where:
Community Wellness Centre in the Jeffery Hale Pavilion
1270 chemin Sainte-Foy
Contact:
Jessica Price
418-684-5333 x12009
Baby Chat Café is back at the Wellness Centre!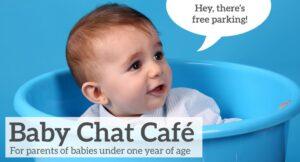 A great chance to meet and chat with other English-speaking parents of babies under one year of age.
Guest speakers on subjects of interest to new parents
You do not have to register to participate and it is free of charge
Expectant parents also welcome
Scale available to weigh your baby
Registration required. We have a limited number of spaces for this activity due to space restrictions and social distancing requirements.
Join us on November 9 to learn about communicating with your baby through signing.  Our volunteer guest speaker Shelley Dupuis will share her knowledge about how this communication tool can help your little one(s) talk with you through signs!
To register or for more details, please contact Jessica Price, Family Matters Program Coordinator:  jprice@jhpartners.net