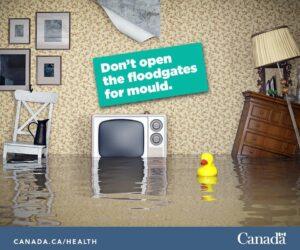 Have you experienced a flood or water infiltration? There are many challenges to cleaning up after water damage, but doing so properly and thoroughly is crucial to avoiding long-term issues with mould.
After a flood, it's important to restore your home to good order as soon as possible to protect your health and prevent further damage to your house and belongings.
In an emergency situation, the indoor air quality in your home may appear to be the least of your problems. However, failure to remove standing water or water damaged materials can present serious long-term health risks.
Standing water and wet materials will allow viruses, bacteria, and mould to grow. These organisms can cause disease, trigger allergic reactions, and continue to damage materials long after the flood.
Immediate action is important. Your house and furnishings are less likely to grow mould if they are dried within 48 hours.
For more information, click here.